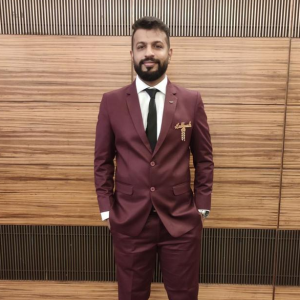 Siddarth Puthran
BIRTH PLACE:
Mumbai, Maharashtra, India
DATE OF BIRTH :
Apr 02, 1985
MARITAL STATUS :
unmarried
PROFESSION :
Banking Professional
WORK PLACE :
Chief Manager - Kotak Mahindra Bank Limited
RESIDING PLACE :
Mumbai, Maharashtra, India
SIBLINGS :
1 younger sister (Married)
BRIEF ABOUT YOU :
I am a Banker...Like people who are humble...Love sports specially football...Enjoy going on long drives...Love listening to music and dancing... Hangout with friends.... Respect elders.....
BRIEF ABOUT PARTNER PREFERENCE :
SIMILAR MOGAVEERA MALE PROFILES